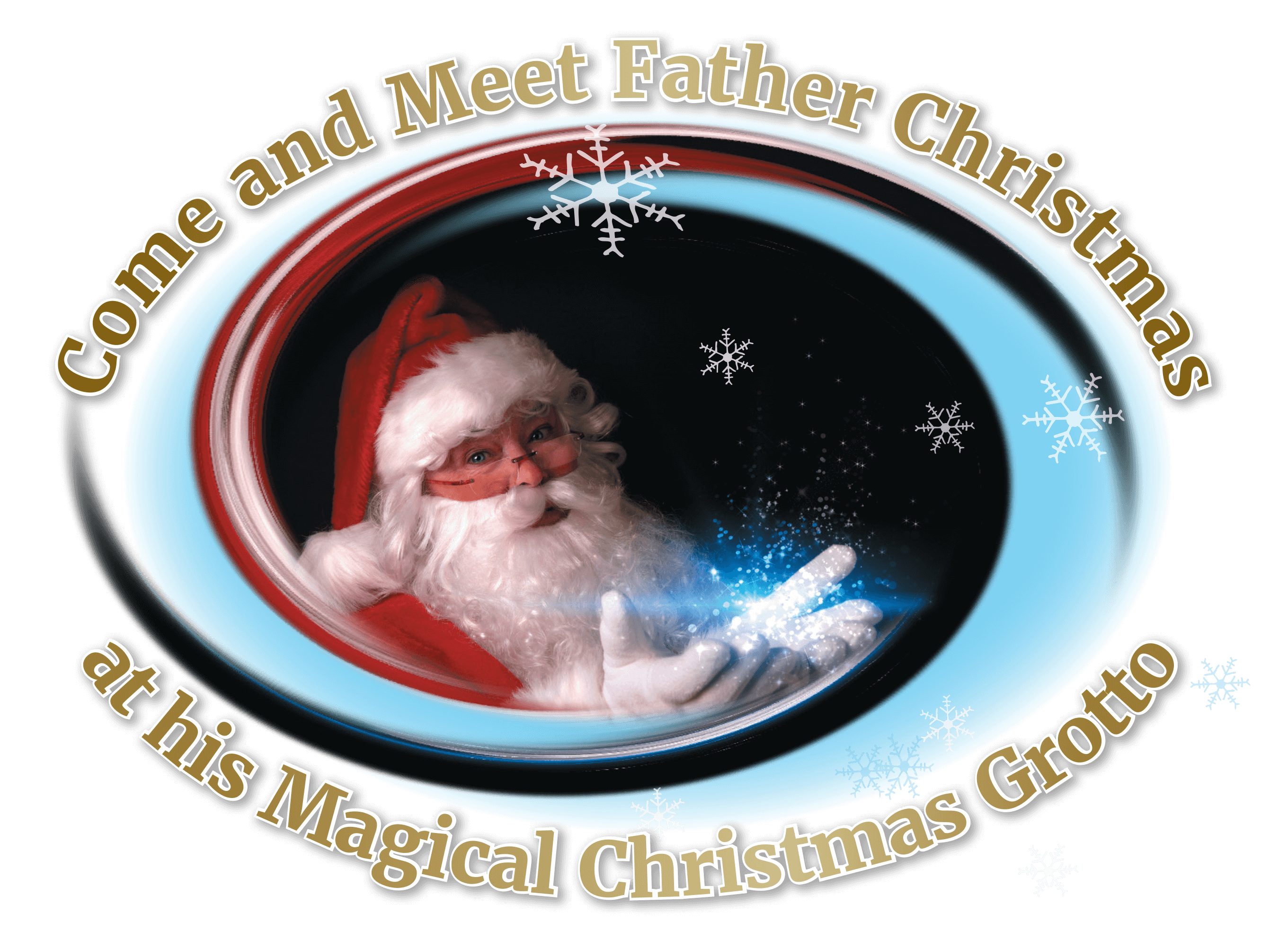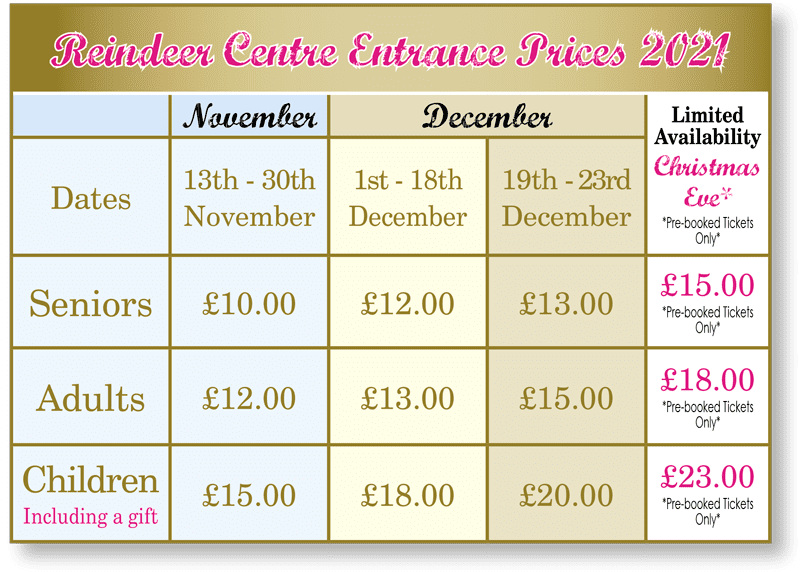 Christmas Grotto
We are pleased to announce that Father Christmas and his team of elves will be returning to the Reindeer Centre to meet all the good boys and girls, parents and grandparents on the 13th of November.
He will be here every day from the 13th of November until the 24th of December, weekdays are less busy 10-4pm weekends are busier 10-5pm , please expect to queue, (at peak times we will split the entry so you can access the barn area first and Santa and Grotto afterwards to minimise the wait time for families)
We do NOT need to operate a booking system this year we will be reverting back to previous years where you simply come along on the day and purchase your tickets on the gate from the 13th November until the 23rd December
The only day you will be able to Pre book tickets will be for Christmas Eve which have now almost sold out
Once you arrive at the Reindeer Centre and have purchased your tickets:-
Each family will enjoy meeting with Father Christmas in his magical Christmas cabin where all the good boys and girls will receive a quality wrapped gift
You will then walk through his enchanting 150ft animated magical grotto , through 8 separate scenes
This will lead through into the big Christmas animal barn, a trail will lead you through the reptile area where you can see all of the lovely animals on display including Carter the giant tortoise and the cheeky family of meerkats.
The donkeys,ponies, goats and alpacas will all be there to greet you, and then you have the opportunity to meet the stars of the show Santa's magical reindeer
You can have a chat and learn all about the reindeer from the handlers within the pen area and also the opportunity to purchase pellets to feed the reindeers and the other farm animals yourselves
Other activities within the barn area will include:-
Play on the soft play assault course and the pirate ship sandpit
Popular snow pit in the barn, have a snowball fight (fake snow)
Christmas Selfie rooms , have the whole family pose for a picture in the different scenes
Have something to eat and drink , hot and cold refreshments available , burgers, sandwiches and our very popular hot chocolate with marshmallows and cream (when you purchase a hot drink you can even keep the christmas mug!)
Buy a gift for someone in the gift shop or treat yourself! Toys, gifts and decorations are available
FAQs
Here is our list of frequently asked questions. We have found that the most asked questions are answered here, so please have a quick look at these before you call as we are often tending to the reindeer and so away from the telephone.
Are you open everyday?
Yes we are open every day from the 13th November until the 24th December,
How long does the visit normally last for?
Generally the visits lasts between 1 to 2 hours
What are your opening times?
Open 10am till 4pm Monday to Friday and 10am – 5pm on Saturdays and Sundays.
What time do you close on Christmas Eve?
Last admission is at 1.30pm , Father Christmas and his Reindeer have a very busy night ahead of them!, please note this is the only day that you can book tickets in advance, tickets cannot be purchased on the day as we have restricted numbers on christmas eve
Can I visit the Reindeer Centre and not see Father Christmas?
Yes you can, but the entry fee is the same, we have many guests who visit without children and love to see the animals and all the Christmas cheer. For any older children visiting that don't wish to meet the big guy in the red suit, just purchase an adult ticket and they won't have to feel shy! Most older children when given the option of gift or no gift do fold and relent their decision and go along with it all!
Do I have to pay for my child who is under 12 months old?
No, entry is free , but if you wish them to receive a gift from Father Christmas you will need to purchase a standard child's ticket, the gifts are age appropriate for babies and are a quality item.
What is there to do?
We have today heard from Father Christmas, and his Elves that they will be arriving at the Reindeer Centre ‪on the 13th November to spread some much needed Christmas spirit and to meet all the good boys and girls
Activities on offer will include interacting with father Christmas and his busy elves where all the good boys and girls will receive a quality gift
Walking through his 150ft magical grotto will be open for everyone to enjoy all the beautiful scenes
There will be a trail for everyone to follow, which will include seeing all of the unusual reptiles in Animal corner, which includes, Carter the giant tortoise, ziggy the iguana, Sheila the kookaburra and also those cheeky Meerkats, fluffy bunnies and guinea pigs
On the trail you can see and feed the goats, donkeys Llamas and pigs
The reindeers will be their usual spot in the barn and you can learn all the interesting facts and maybe feed them some food,
There will be fun additional Christmas activities for the children which include helping the elves prepare some special reindeers food to take away for Rudolph and his team on Christmas Eve
Mother Christmas will also be making a guest appearance this year and will be helping Father Christmas at the Reindeer centre
The popular snow play area will be returning this year
Do you have a photographer on site?
We have an automated photo system installed in Santas Grotto, so the whole family can be in the picture, these are available to view with the option to purchase or you can take your own photo if you prefer
Do you have facilities for disabled people?
Yes we do, there are some disabled parking spaces at the top of the barn next to the toilets where there is a ramp access and toilet facilities, although spaces are limited on busy weekends. The rest of the farm is level concrete walkways and all of the grotto and barn are accessible to wheelchairs, mobility scooters and double buggies. Sorry but we do not have any available for hire at present.
I am a carer do I have to pay?
If you visit in November then carers are free, but in December carers will be £5 each – please note DLA or PIP evidence will be required to secure this discount. (We can provide you with a receipt if needed).
Do you accept credit/debit cards?
Yes we do, but not American Express, (minimum transaction £10)
Do you have Onsite Catering?
We have catering facilities on site with a variety of hot and cold food available all day
Do you have toilets?
Yes, including disabled toilets and baby changing facilities.
Do I need to bring my wellies?
Well we are a working farm and it can be wet and muddy in places on and near our car park, though once you are through the entrance area most of it is concrete.
Can I feed the reindeer?
Yes, but only with our food (carrots/pellets) which can be purchased on site and all monies go to local charity, (occasionally we have to limit the quantity if they are over their daily quota, or they will not be able to fly!)
Do I have to book a ticket
No you do not have to book a ticket , you simply come along and buy your tickets on the day between the 13th November and 23rd December, the ONLY day you will need to buy a ticket in advance is on Christmas eve as it is a ticketed only event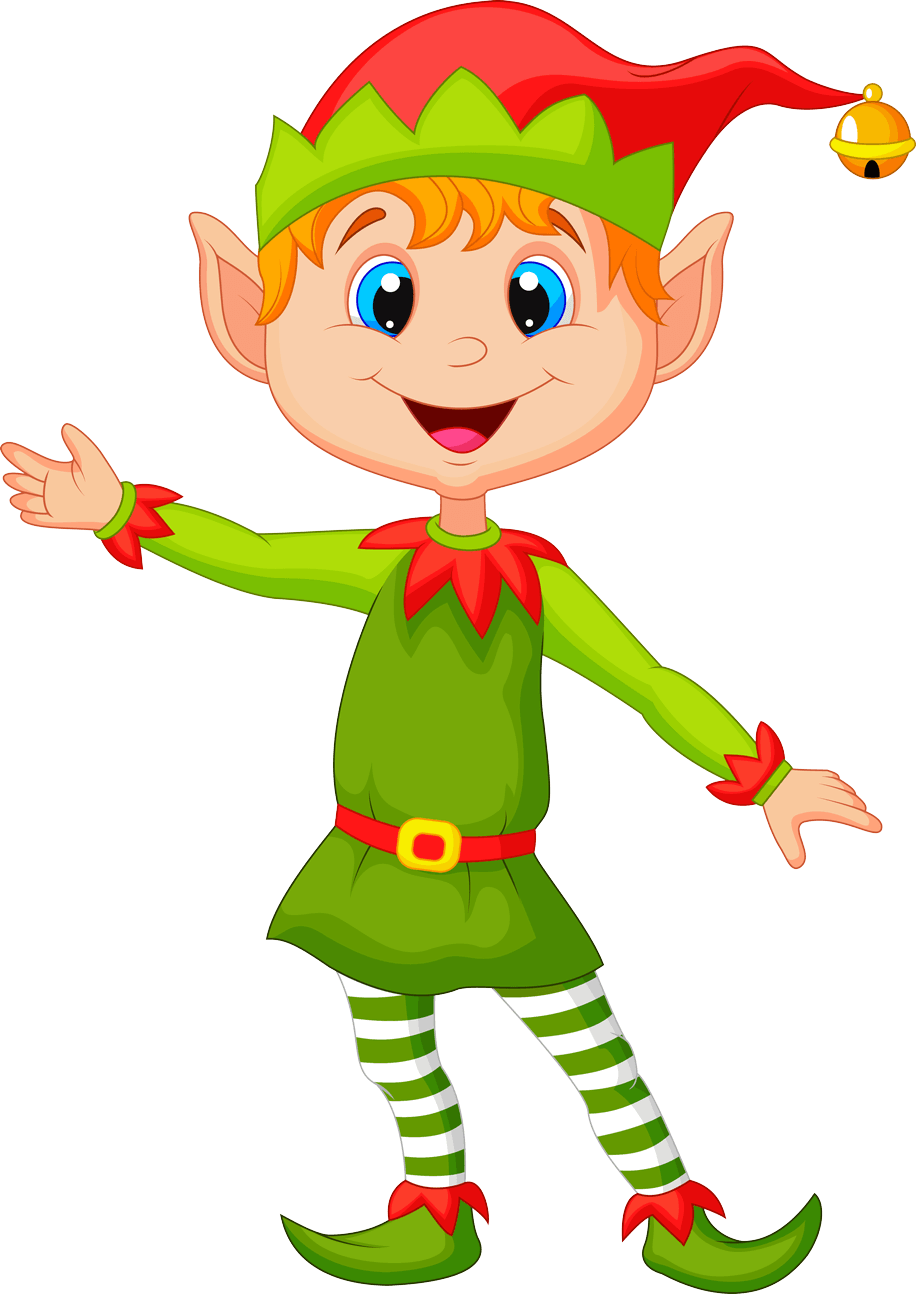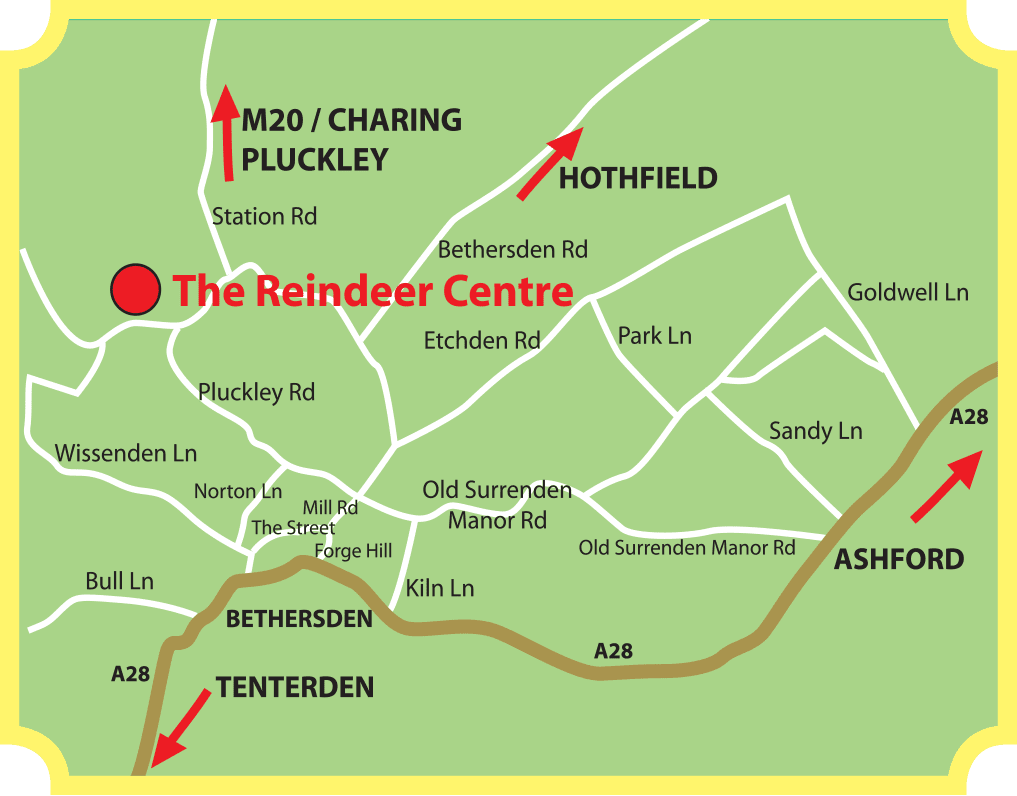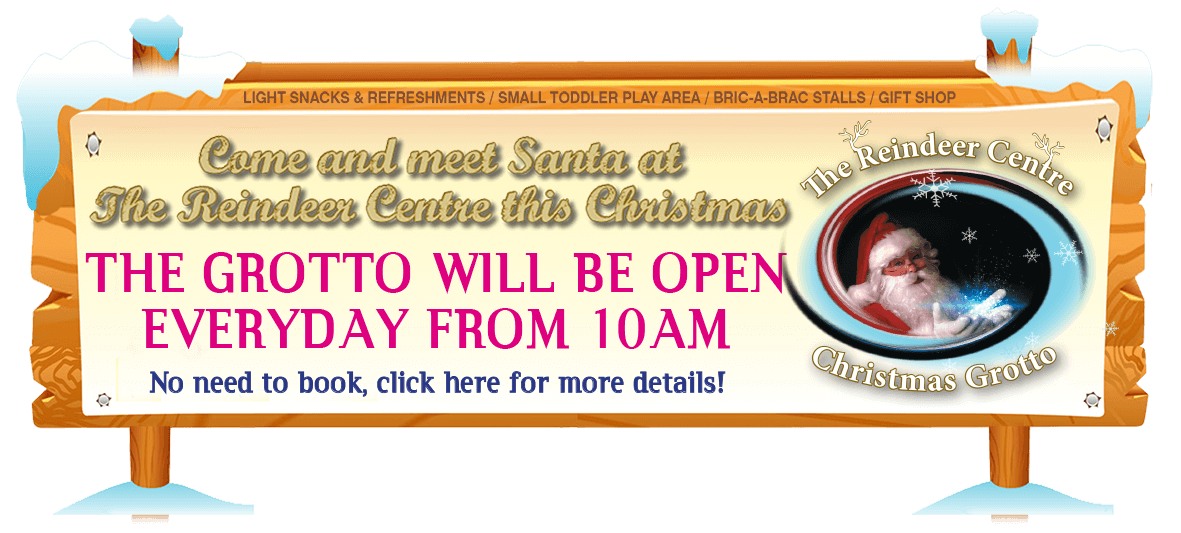 How to find Us
Enter

TN26 3EQ

on your Sat Nav
★ From Junction 9 M20, – Leave the Motorway at Junction 9 and take the exit sign posted (Ashford).
★ At the roundabout take the 3rd Exit onto the A28 sign posted (Tenterden/Great Chart).
★ At the next roundabout also take the 3rd Exit onto the A28 sign posted (Tenterden/Great Chart).
★ At the next roundabout (Matalan Roundabout) take the 2nd exit A28 sign posted (Tenterden/ Great chart).
★ At the next roundabout take the 2nd exit A28 sign posted (Tenterden).
★ Continue along this road for about 1.8 miles, take the third turning on the right sign posted (Old Surrenden Manor Road / Pluckley 6 miles), take the 4th turning on your left. (about 3.5 miles along this road, just after "Stone Green Nurseries")
★ The Reindeer Centre is the first gate on the right.
Christmas Eve Grotto Tickets 2021
SOLD OUT